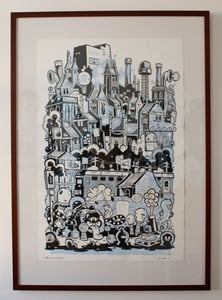 $

120.00 - On Sale
Giant Two-colour screen-print on thick archival paper depicting the urban utopia known as Newcastle, NSW. Note well an assortment of actual Novacastrian landmarks like the old Latec building and of course the omnipresent Down Town Penis.
70cm by 120cm Follow this link for a closer look at the graphic.
Frame not included. Postage is expensive 'cause big prints cost loads to post.