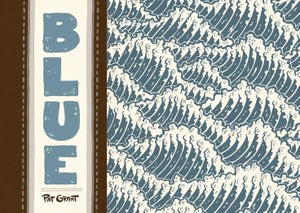 $

20.00
Part sci-fi part autobiography, this book is about localism and racism on the Australian beach. Lushly produced paperback printed in two Pantone inks on lovely thick cream coloured paper. Blue is 96 pages long with the full story of three grommets who skip school to follow the train line up to a place where there is rumored to be some sort of human remains. At the back there is an essay about Australian surf comics.
Check out the full text online --> BLUE - Online
This book was published with the help of Top Shelf in USA and Giramondo in Australia. I worked very hard to get it into stores and to keep the price down, so if you can easily buy it from a book or comics store then you should do that. You'll save on postage and support your local retailers. If you live in the boonies or the bush then by all means buy it online here.
Stayans. Save yourself seven bucks postage and buy an unsigned copy from Giramondo ---> Giramondo Books
Postage to Australia only. North Americans can order the Top Shelf version here ---> Top Shelf Productions